Clear Correct in San Jose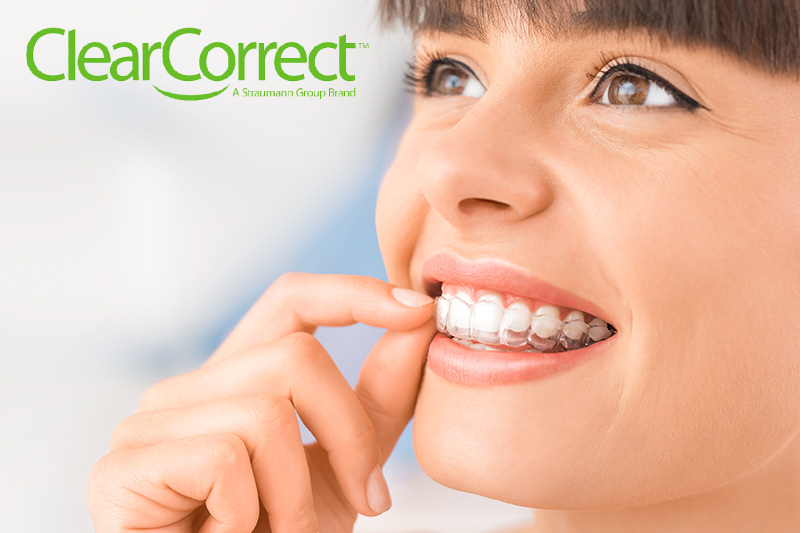 Clear Correct clear aligners provide a modern alternative to conventional braces for gently straightening crooked teeth to improve your smile. Clear aligner technology can be used to address many orthodontic issues affecting adult patients and teens above 14-years, including teeth crowding and a misaligned bite, as well as problems with rotated, backward, or twisted forward teeth.
Clear Correct In San Jose
Clear aligners are commonly referred to as invisible braces, clear braces, or invisible aligners, because they're virtually unnoticeable in your mouth. They are just as effective as traditional braces in that they apply a gradual force to control tooth movement, but without the metal wires and brackets. Instead, you will be required to wear a series of custom-made aligners for a period of two weeks each, so each aligner in the sequence moves your teeth a little bit more into place until the desired position is reached.

The aligners are worn for a minimum of 22 hours a day for the entire duration of treatment, removing them only to eat, drink, brush your teeth and floss.

Other benefits of Clear Correct invisible aligners include:
Discrete – They don't use any wires or brackets, so you don't have to hide your smile.
Comfortable – Comfortable to wear and less traumatizing to the teeth, underlying roots, and surrounding bone, so there is no risk of cuts or abrasions from wires or brackets like with conventional braces.
Convenient – With aligners, there's usually less time spent in the dentist's office compared to traditional braces. Dental visits are placed at 6-8 week intervals to assess the progress of the treatment and to receive your next 3-4 sets of aligners
Easier to maintain oral hygiene – Because you can remove your aligners any time, you can eat and drink without restrictions, and brush and floss with complete freedom
Is Clear Correct right for you?
During your consultation, Dr. Josephine G. Clemente will examine your teeth to verify that you are a suitable candidate for clear aligners. Most minor to moderate orthodontic issues can be successfully treated. If you're a suitable candidate for the treatment, Dr. Josephine G. Clemente will take detailed photos of your teeth and mouth, as well as your bite. X-rays will be used to create a digital roadmap of your custom treatment.

Dr. Josephine G. Clemente will use Invisalign software to predict how your teeth will be moved over time until they reach the desired position. You can even view the results to expect at any point in the course of the treatment, as well as the final result. Your series of custom aligners will then be fabricated to facilitate the movement of your teeth.

With our advanced Invisalign system, straightening your teeth is a more pleasant and hassle-free experience compared to traditional metal braces.You become unaware of the presence, giving you a normal mouth feeling. Contact us in San Jose to schedule your consultation.